A strong, fearless and effective media, where talent is recognised and rewarded regardless of gender. That's the goal of 'She Leads Media: Bettina Fellowship' – a network-building programme for women working in journalism and media in East Africa, delivered in partnership with Baraza Media Lab.  
Initially run as a pilot called The Bettina Fund in 2021, the scaled-up rollout of this trail-blazing project was announced at the Africa Media Festival in Nairobi by Caro Kriel, Chief Executive of Thomson Foundation, and Christine Mungai, Curator of Baraza Media Lab. 
The programme was devised in honour of Bettina Peters, Thomson Foundation's late development director, who died in 2020 and spent much of her life championing women's leadership in media. 
Building on the success of the pilot programme, She Leads Media: Bettina Fellowship will start rolling out later in 2023 over a three-year period. It will provide training and mentoring to women working in different areas of media – from the traditional legacy platforms of print and broadcast, to digital start-ups. The goal is to empower them to strive for senior roles in their fields, shape agendas, grown women audiences, and build a sustainable and influential network in their country, and globally. 
We are committed to supporting women in media leadership
Proven to work
Together with Baraza Media Lab, we ran the Bettina Fund pilot in Kenya for three months in 2021. Twelve mentees were chosen from more than 500 applications for the inaugural fellowship. The women chosen came from across Kenya, including Nakuru, Kisumu and Kakuma. Their experience ranged from legacy media to digital start-ups and entrepreneurial publications.  
During the three-month pilot, the mentees had the opportunity to study fields relevant to their work, have weekly one-to-one sessions with their mentors, and participate in webinars with other female leaders in their field. 
"We had a really successful cohort last time and we are taking some of those learnings so that this time round we have a bigger and better programme," says Christine Mungai, Curator, Baraza Media Lab. 
A powerful collaboration
Baraza Media Lab, are headquartered in Nairobi. They are embedded in the Kenyan media landscape with an entrepreneurial team and strong links to local journalism.  
Together we're able to ensure the programme prepares leaders for the news industry's future, and its present. It will be the source of long term, vital knowledge on what approaches work when it comes to getting women into senior editorial positions to grow diverse, inclusive and engaged audiences with content on critical issues that matter for all across the region – from climate resilience to food security, migration to education, health to wealth. 
"A network and especially mentorship is very valuable for women especially as they make their way through newsrooms," says Caro Kriel, Chief Executive of Thomson Foundation.  
The impact
In their immediate evaluation of the pilot programme, mentees and mentors rated it exceptionally high, with both saying they had gained from the relationships.  
One year after they embarked on the programme, we asked the mentees what long-term impact the fellowship had on their professional lives. The project has left a big impression on those who participated.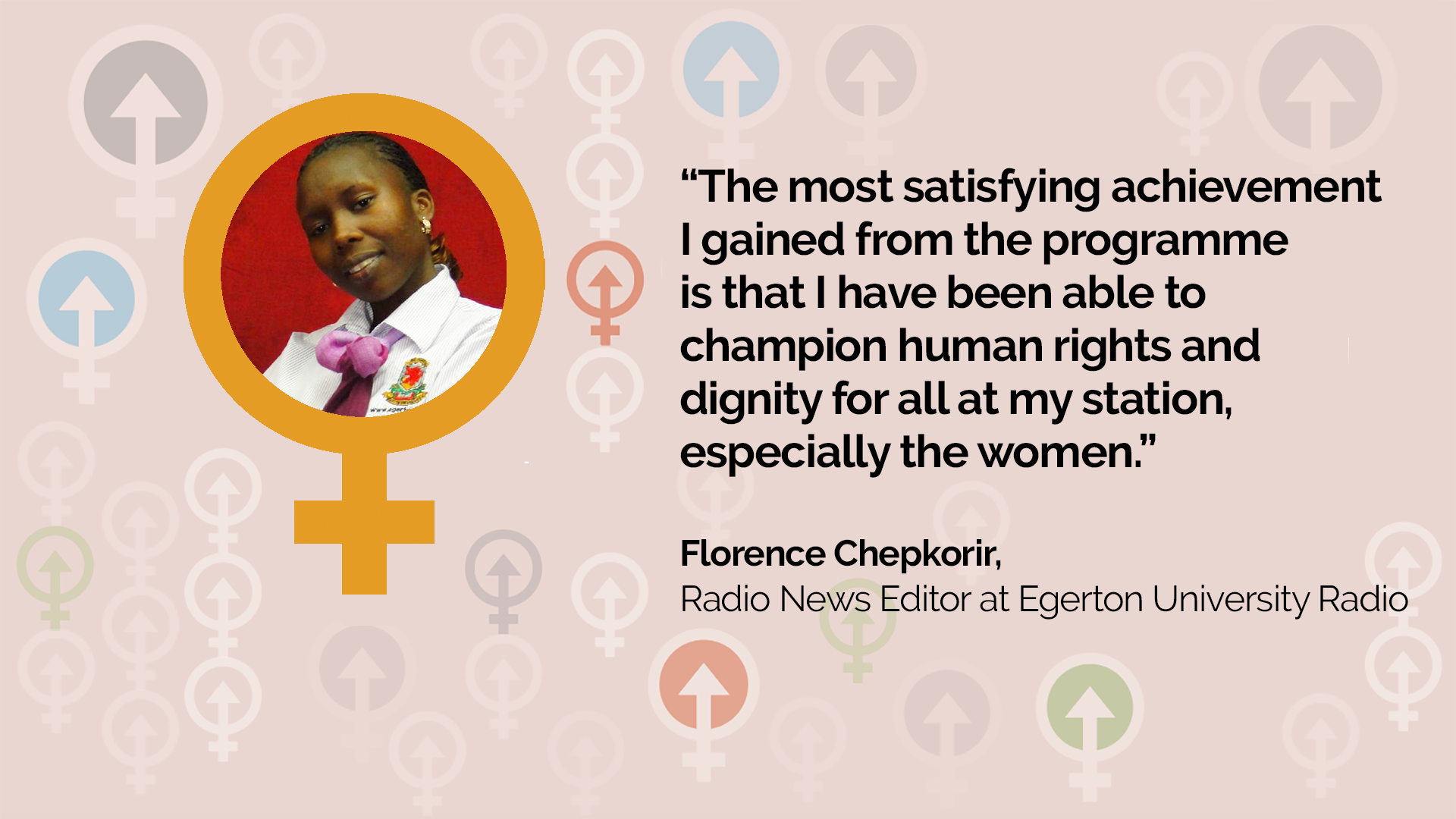 "The most satisfying achievement I gained from the programme is that I have been able to champion human rights and dignity for all at my station, especially the women. I am supporting a safe working environment for women, especially those new in the industry. I have also taken the front line in mentoring them."
Florence Chepkorir, Radio News Editor at Egerton University Radio (Nakuru)
"The training for me had both personal and professional impact. On a personal level, it gave me confidence as a woman in the media space so that I now know my voice does count in the noisy newsroom. Then on a professional level, I took on a new role as Head of Entertainment programmes on NTV Kenya. Lastly, courtesy of the training, I launched a magazine show that I had procrastinated on for the longest time, and I'm proud to say it's one of the leading shows in the country."
Margaret Wanjiku, Broadcast journalist, Nation Media Group.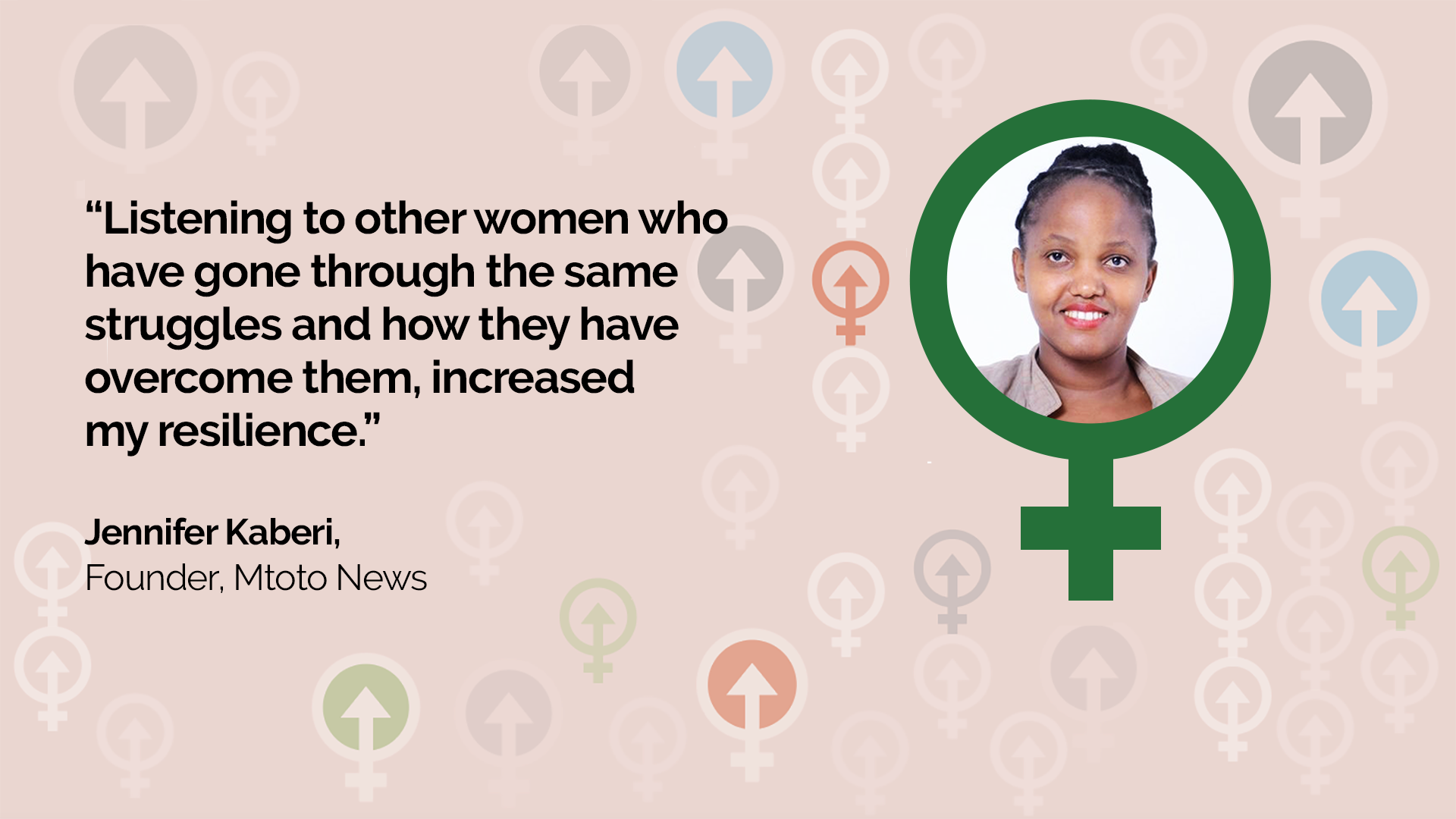 "As a woman in the media and especially in a leadership position, you get to hear a lot of 'you can't do that, and 'that is not possible. Thus, being part of the first cohort for the Bettina Fund was very refreshing. Listening to other women who have gone through the same struggles and how they have overcome them increased my resilience. The skills I gained from the training and mentorship led Mtoto News to develop new products, including a children's magazine written by children, which has gained traction, and we are getting amazing feedback from parents and children. I hope it will continue, and we will get more women in the program."
Jennifer Kaberi, Founder, Mtoto News