Ten journalists from across the globe, keen to work in the exploding field of mobile journalism, descended on Thomson Foundation's London offices.
The participants – all looking to sharpen their multiplatform skills and learn how to survive and thrive in a new world of visual media – included an investigative journalist from Nigeria, a Beirut-based reporter for Al Jazeera, a Radio Ghana news and current affairs host, along with journalists from Oman, Rwanda, South Africa and the USA.
The team spent five weeks on the Thomson Foundation summer convergence course developing cutting-edge skills in different media. It was no mean task. The journalists were required to research and deliver multimedia stories using text, photos, podcasts, infographics and a video report shot and edited on mobile devices.
The power of video
Smartphones are handy bits of kit when you need to broadcast from sensitive or remote locations and are increasingly being used by journalists to record breaking news. Experienced Thomson Foundation trainer, Glen Mulcahy, was on hand to help the team of promising mobile journalists (or "mojos") maximise the power of video and get compelling and "share-worthy" footage from breaking stories. Outfitted with a tablet or an iPhone, even the shakiest of shooters was soon able to use a handheld device to capture stories and enhance their reporting capabilities. "I was blown away by the energy and enthusiasm of the group", commented Mulcahy. "And I was very impressed with the results, particularly of the journalists who chose to use mojo to produce their TV reports".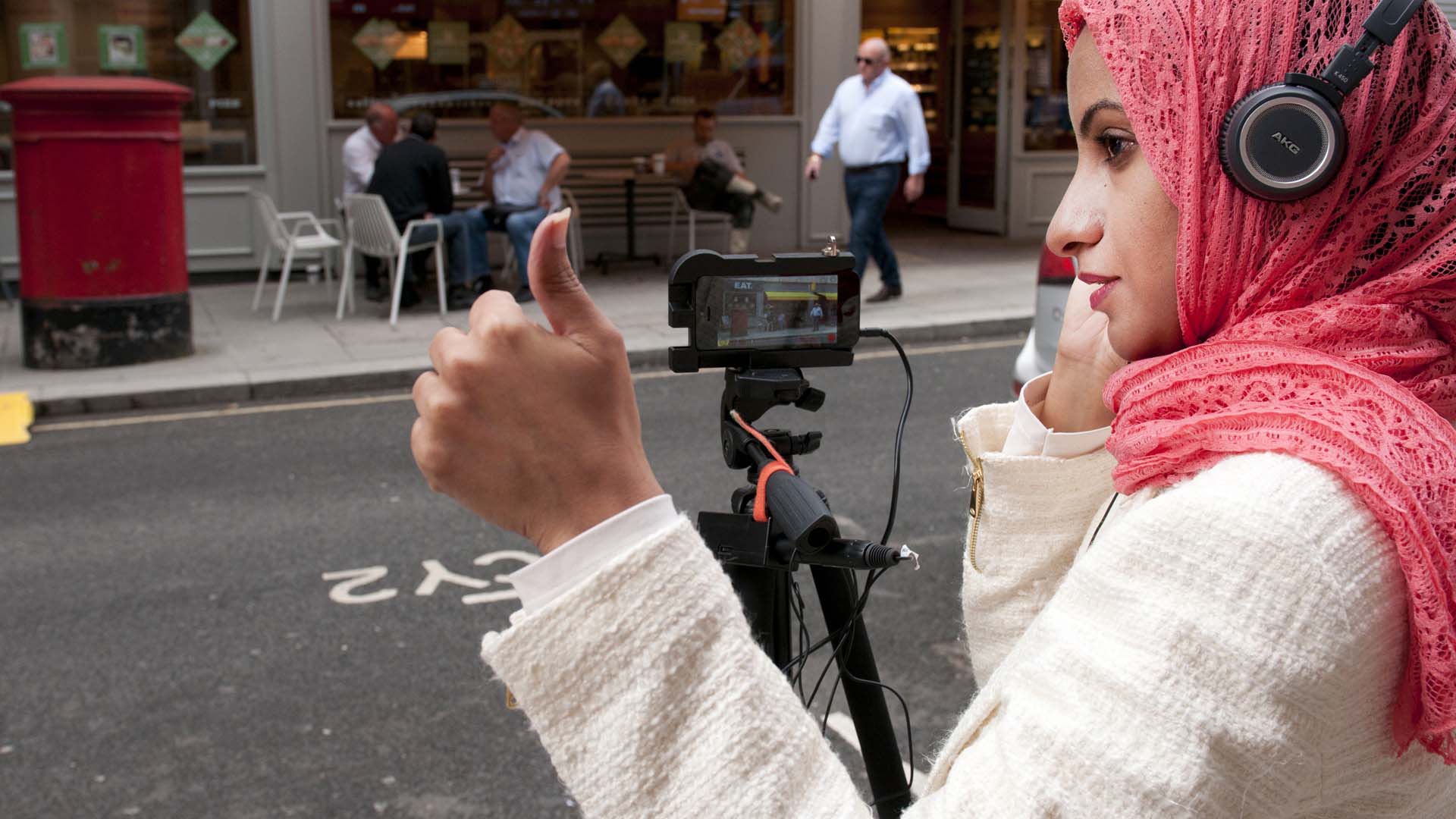 During my 15 years of experience in my work, I've never learned the things I've learned during this course.
Digital journalism "has taken over"
The line-up of Thomson Foundation experts included The Sunday Times journalist, David Harrison, former Fleet Street photo editor, Alun John, award-winning journalist, Judy Aslett, and BBC5 Live senior radio broadcast journalist, Derek Ivens.
Digital trainer, Dan Mason, was a hit with newspaper journalist, Bernadette Namata, from Rwanda. "After two weeks at the Thomson Foundation summer course, it became clear to me that digital journalism has taken over, and as a print journalist, I remain thrilled and fascinated by the course" enthused Namata. "The second week tutored by Dan Mason was such an eye-opener. Dan showed us how to use different social media apps and introduced us to data journalism. He equipped me with the tools to write for online audiences, write blogs, create a website and use Twitter".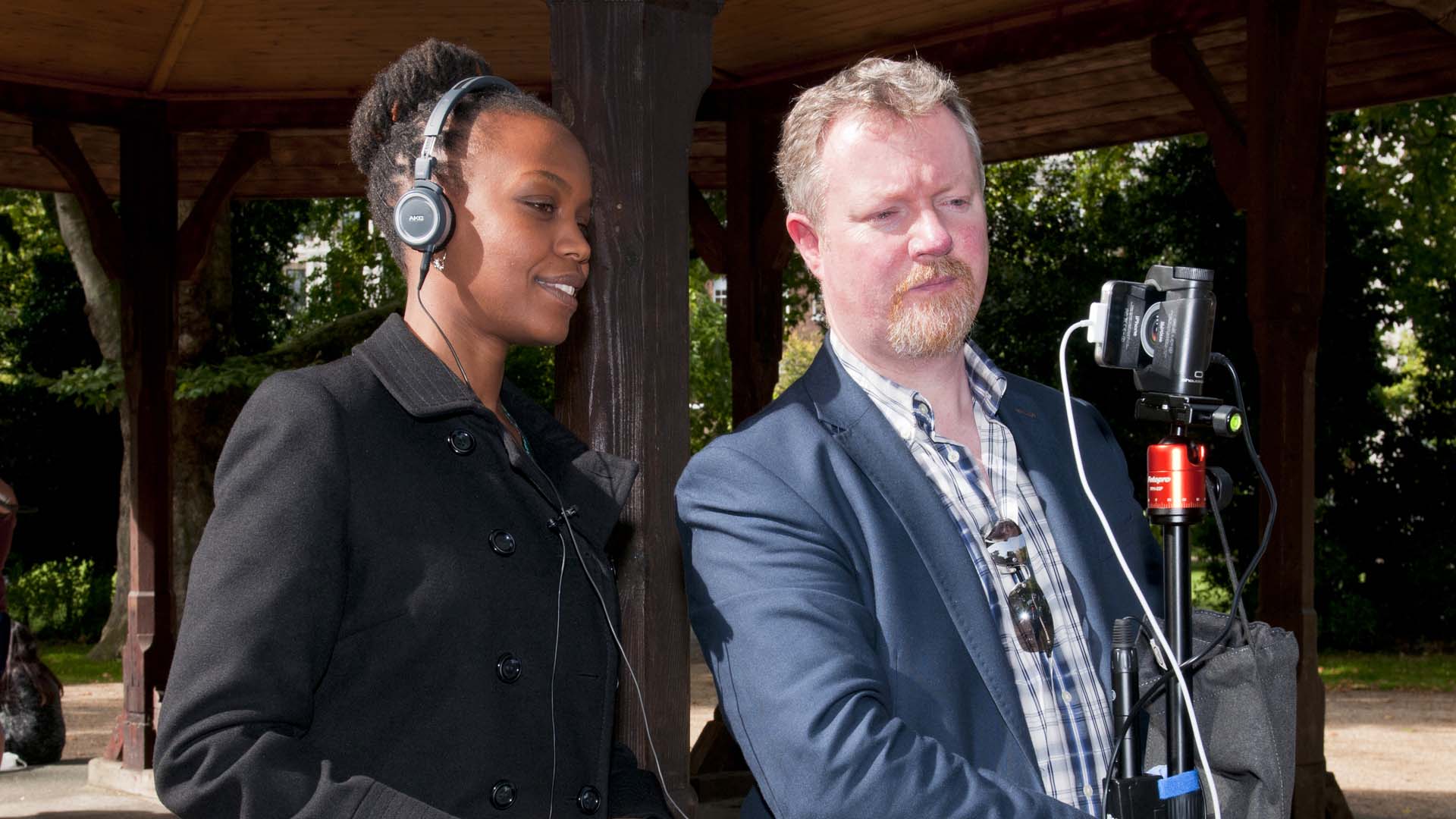 Bernadette Namata from Rwanda with Thomson Foundation's mojo trainer, Glen Mulcahy
Participants got a high-speed introduction to the technology with a mix of tuition and workshops. They were also given an opportunity to pick the brains of the experts and exchange ideas with fellow participants. Other lessons included the importance of putting community engagement at the heart of news, followed by a one-week placement at a national UK news organisation.
Speaking of his placement, Kunle Falayi, an investigative reporter, said: "I had always wondered what working in a British media house would be like. There was no doubt in my mind that it was going to be totally different from what it is like in my home country, Nigeria. My training with Thomson Foundation was focused mostly on multimedia journalism, search engine optimisation, social media optimisation and site traffic data crunching to boost readership. This was the reason I found it rewarding to have been attached to the online editor of the Telegraph's Education desk, who showed me what these were all about in practical terms. I even did a couple of stories which were published on the website's Education section."
The Thomson Foundation has given me the ultimate gift, the gift of education.
The principle of the course was versatility: taking strands of social media, strands of mobile, of video, data and digital photography and of traditional storytelling, and encouraging the journalists to experiment and think of new and innovative ways of storytelling. By the end of the course, the group became "up to speed" on most aspects of multiplatform journalism and confident participants in the media's digital evolution.