Mariana Motrunych, a television reporter from Ukraine, has won the 2017 Thomson Foundation Young Journalist Award.
The prize, part of the UK Foreign Press Association (FPA) Awards, was presented by Lord Chandos, chairman of the Thomson Foundation, at the event held at the Sheraton Grand Park Lane Hotel in London on 20 November.
Mariana, working for Channel 24, was one of three finalists. The other two were Katerina Sergatskova, a freelance reporter, (pictured below left) also from Ukraine, and Maham Javaid (below right) from Pakistan's News on Sunday. A special one-off award was also made to filmmaker Waad Al-Kateab, working for Britain's Channel 4 News in Aleppo.
The stories submitted provide us with an extraordinary window on the world.
Now in its fifth year, the Young Journalist award is one of the highlights of the UK's Foreign Press Association Awards and this year attracted more than 236 entries from 60 countries. 
The award enabled journalists aged 30 and under from countries with Gross Domestic Product (GDP) per capita of less than $20,000 to enter their work for scrutiny by the foundation, and then the FPA judges.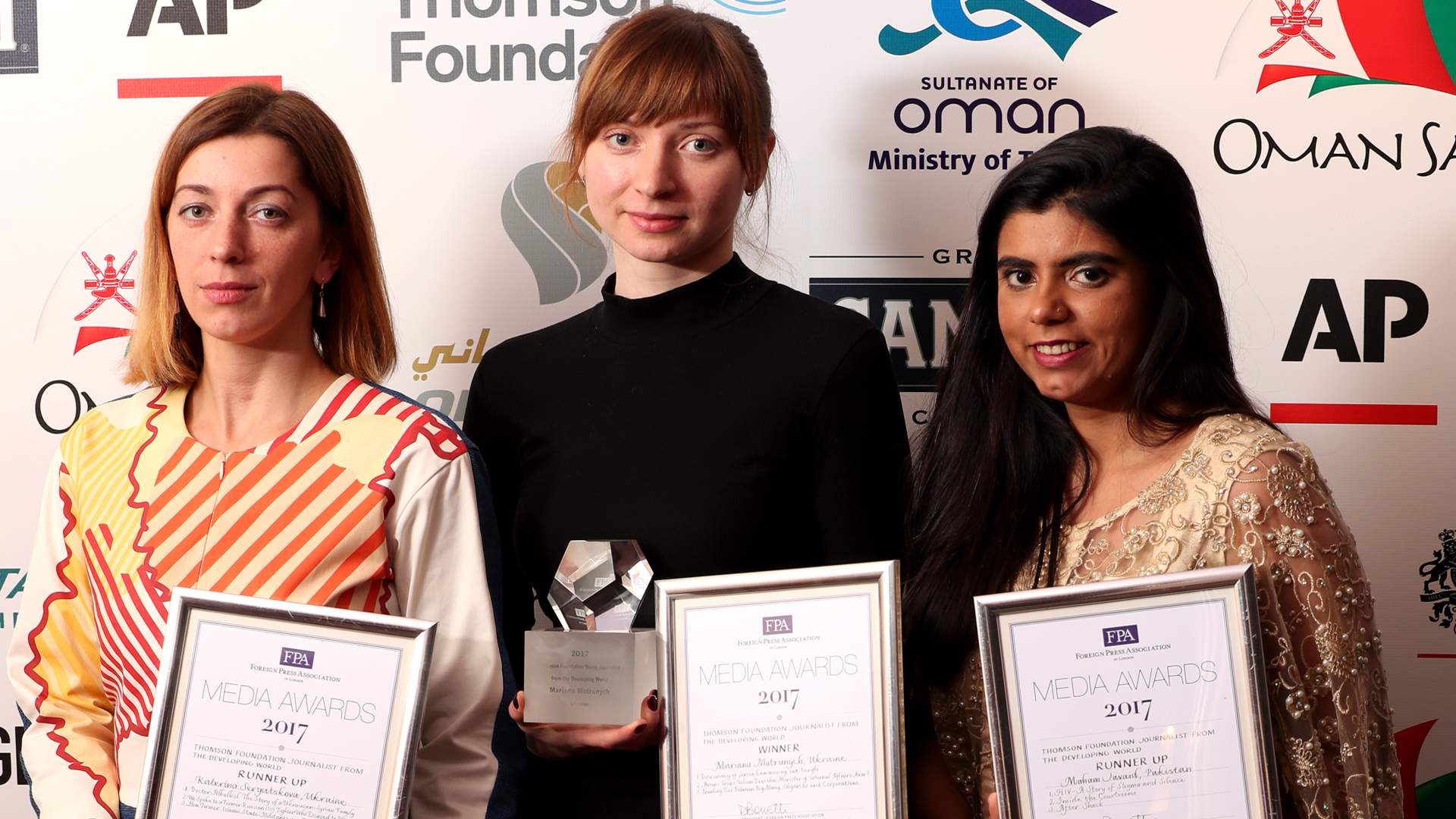 Exposing potential corruption in the National Energy and Utilities Regulatory Commission, is the theme of Mariana's first report. She 'doorsteps' the Commission's head, who arrives to work in a shiny new Mercedes, to try and establish his sources of income.
Her next story examines the Ministry of Internal Affairs practice of giving 'award weapons', including machine pistols and rifles, to people outside of government, including journalists.
Mariana's last story asks whether a new law, which imposes a 'tax' on citizens to fund political parties, can possibly prevent the involvement of oligarchs and big corporations in the financial backing of those parties.