There was no shortage of issues to investigate for radio journalists attending the Thomson Foundation workshop in Kandy.
Thiyagu had been investigating the issues facing plantation workers in the Sri Lankan highlands; Indika was looking at possible contamination of the water supply in the eastern region and Evon was examining a suspicious land deal in her home city of Kandy.
The challenge was how to translate their work into accurate, balanced and attractive pieces of radio.
Many of the journalists working in the regions of Sri Lanka, outside the capital Colombo, are employed by a number of different media organisations. Like many reporters and producers across the globe, they are "converged" journalists - working across a number of different media platforms for newspapers, online sites and broadcasting organisations.  As a result, those attending the Kandy workshop were adaptable and innovative but many had not been trained in the individual skills each platform requires.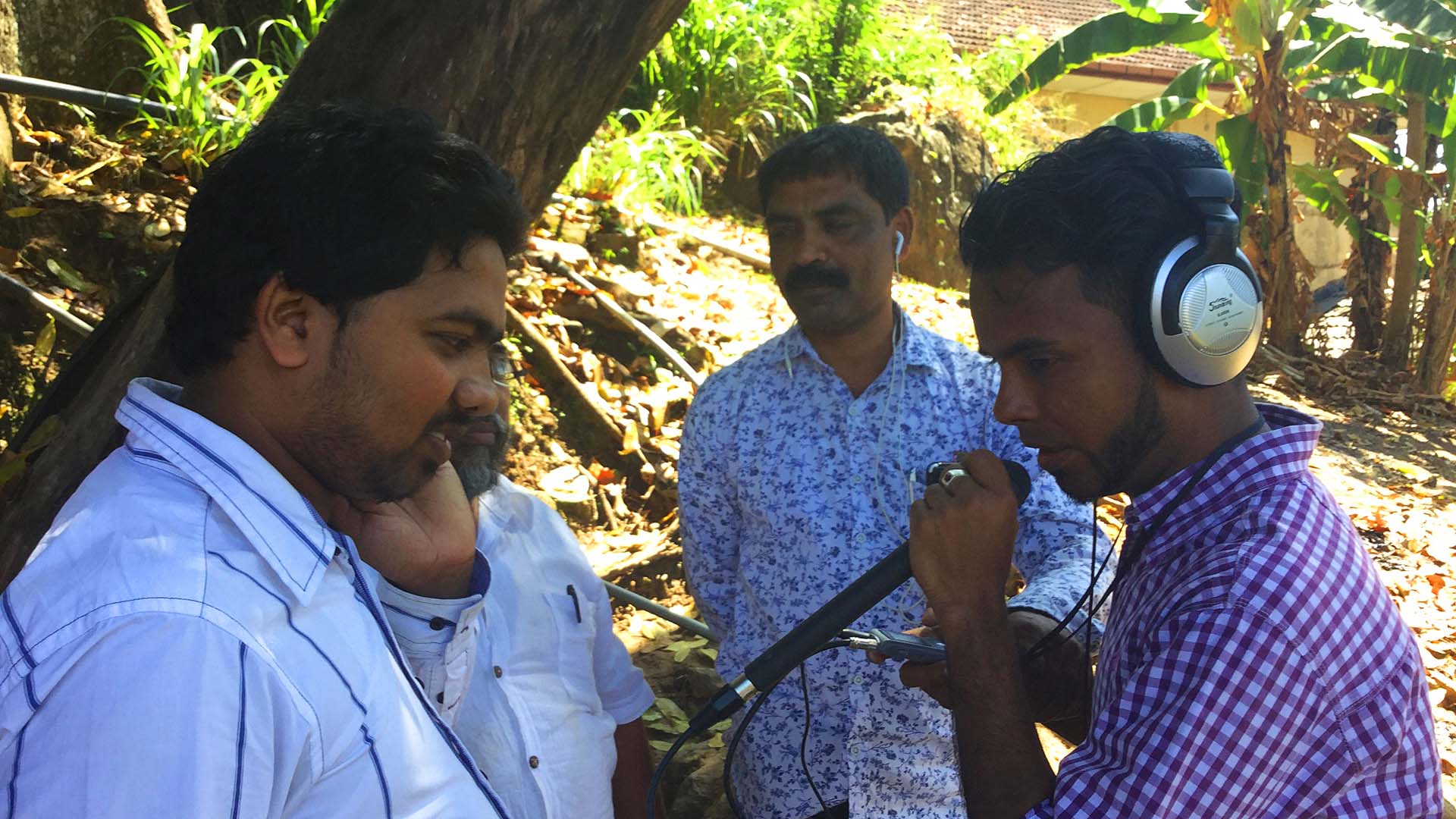 There was no shortage of issues to investigate for radio journalists attending the Thomson Foundation workshop in Kandy
It is a tough job working as a regional journalist in Sri Lanka. Rates of pay are lower than in the capital Colombo and many course participants complained that often they felt that their best work is swallowed by the central Colombo media operations over which they have little control. They were keen to improve their skills to help ensure that they produced material ready for broadcast on radio.
The participants worked in groups, with each group developing one of the investigative reports from the research stage, through story creation, to production and broadcast. The groups varied in experience with some journalists at the start of the careers and others with many years of experience. All participants were able to make their individual contributions to inform the final production.
Concern for safety
One topic raised during the workshop, which led to a great deal of discussion, was the journalists' concern for their safety and that of their sources. There is a new openness around government in Sri Lanka but, due to the sensitivity of some of the issues being investigated by the journalists, a number of the course members said they had experienced intimidation and continue to do so. They were keen to understand how to protect themselves, the material that forms their investigation and their sources.
The journalists appreciated a workshop designed to illustrate how to protect sources by taking care with online data and access to social media, but many still felt the issue of their own personal protection was not so easy to solve. 
At the end of three days of intense debate and discussion, the groups pitched their investigative reports to a critical audience of their fellow participants. After such intense scrutiny, it's hoped that some will be submitted for the Thomson Foundation Inquirer Awards if not this year then, with a little more investigation, for the next.