Yousra Elbagir talks to Sara Loane about the perceptions of Africa in international media and the radical beauty queen taking on the Sudanese regime.
I spent much of my life moving between my birthplace in Khartoum, Sudan and the UK, where I studied at St Andrews University and also nurtured my love for journalism and debate.
When I moved back to Sudan from the UK, I was certain of two things. I wanted to report on the issues that plagued the people in my country and I wanted to do this in a compelling way that moved past the overworked images of famine, poverty and war.
This wasn't going to be without its challenges. How do you tackle issues that no longer get people's attention? How do you stay true to the reality on ground without perpetuating stereotypes of helpless Africans? 
Its own form of resistance
I knew my country had more to offer: a rich culture, its own form of resistance. 
Having grown up in a family of journalists and publishers under the heavily censored dictatorship, I have always been very aware of the extremely difficult reporting environment. I arrived in Khartoum determined to address the bloody counter-insurgency campaign in the Nuba Mountains, to the south of the country, which haunted me. 
I was restless; ready to pack up and head straight to the sectioned-off rebel-held region.
My family was the voice of reason.
"Do you have hostile environment training?" My answer: "No".
"Do you have access, contacts or even a safe route out of the mountains?" My answer again: "No".
"How will your coverage be any different to the citizen journalists reporting from there every day?"
It was this line of inquiry from my brother that stopped me in my tracks. "Probably not that different," I thought. "Maybe not that good, either." I was fresh out of university and just starting out as a journalist in the field. 
Insight into the lives of displaced Nuba
As the conflict raged on, I decided to engage more with Nuba culture. One Friday, I rounded up some friends and headed to the Nuba wrestling stadium in the suburbs of Khartoum. The energy was electric; bulky wrestlers locking arms, twisting and pirouetting in the dust. Within the walls of this government-built stadium, the sea of spectators was going wild.
It turned out that some of these wrestlers had just flown back from Olympic training in Japan for the Tokyo 2020 games. I knew it was a great story. Not only would it give insight into the lives of displaced Nuba but also celebrate the survival of a thousand year-old culture brought from the mountains to thrive in the capital city of their country's hostile government. 
A voice for the voiceless
In September 2015, my story on Sudan's fighting giants was published on CNN.com and set the tone for my entire body of work.
Nearly a year later, in July, my story about a radical Nuba beauty queen using her title to appeal to the government for an urgent end to the bombing in the mountains was published by The Guardian online and in print, which I submitted in my application for this award.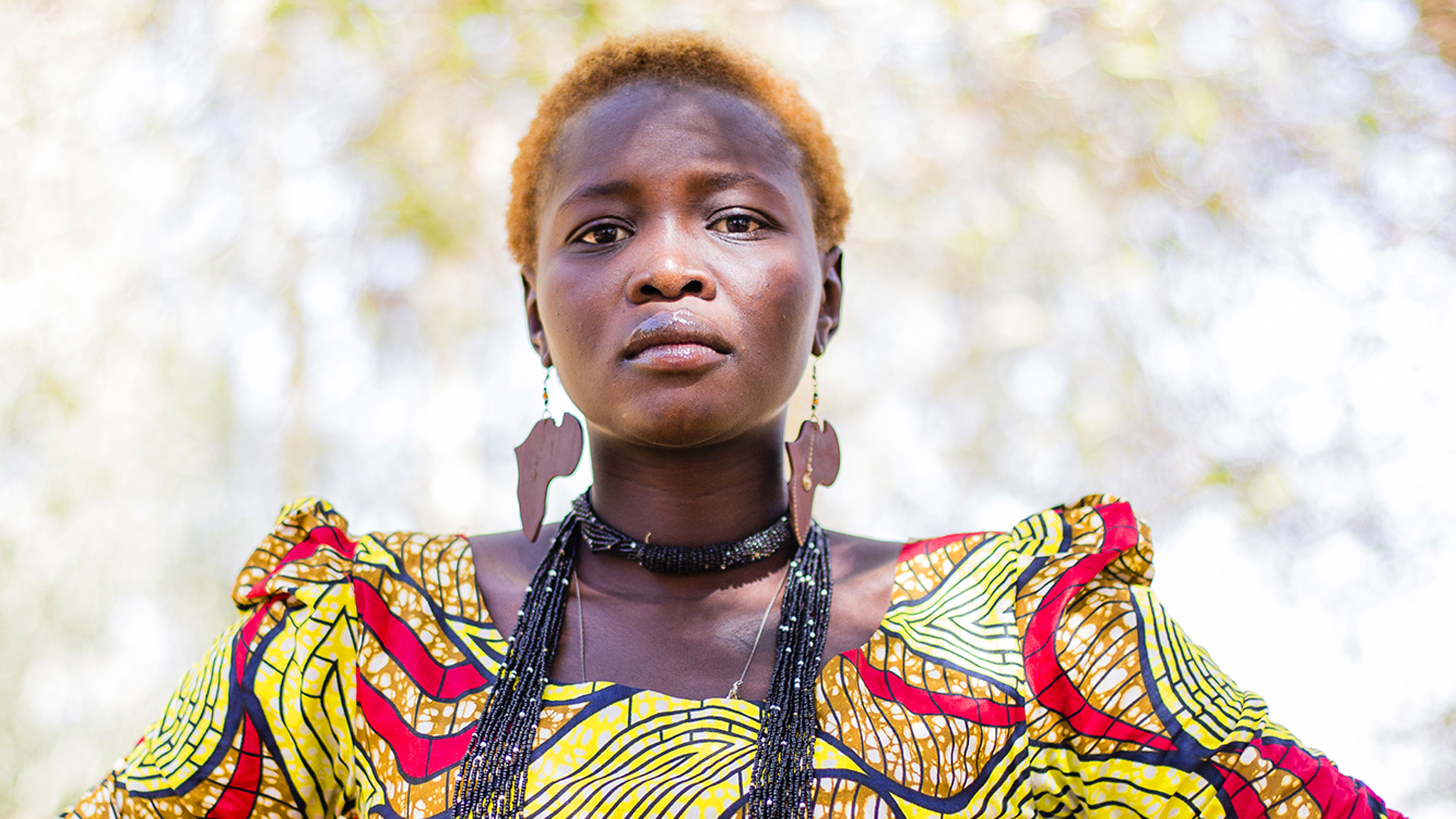 Natalina Yaqoub says people are depending on her to speak out against the aerial bombardment (image credit: Ala Kheir)
Everything that I learned and felt so passionate about when I wrote my first piece came together in this story. This wasn't another account of a helpless African but a woman proudly championing dark-skin beauty as a form of political resistance, using her platform to speak on behalf of those in her homeland. Through her story and the women vying for her title, I was able to contextualise the conflict through a different lens –presenting displaced Nuba in the capital as more than mere victims of the regime but fully fleshed and three-dimensional, with the capacity for ambitions and dreams beyond their circumstances.
This wasn't another account of a helpless African but a woman proudly championing dark-skin beauty as a form of political resistance.
In August 2016, Yousra initiated a Twitter debate by getting people to share their experiences of #SudanUnderSanction. Hundreds took to Twitter to show just how the US anti-terrorism embargo was affecting their lives – which she wrote about in The Guardian. She was invited to discuss the debate at the House of Lords in London and was twice on BBC World Service's popular breakfast show Newsday. She writes for The Guardian and CNN and has recently written on the experiences of Syrian immigrants finding refuge in Sudan for Reuters.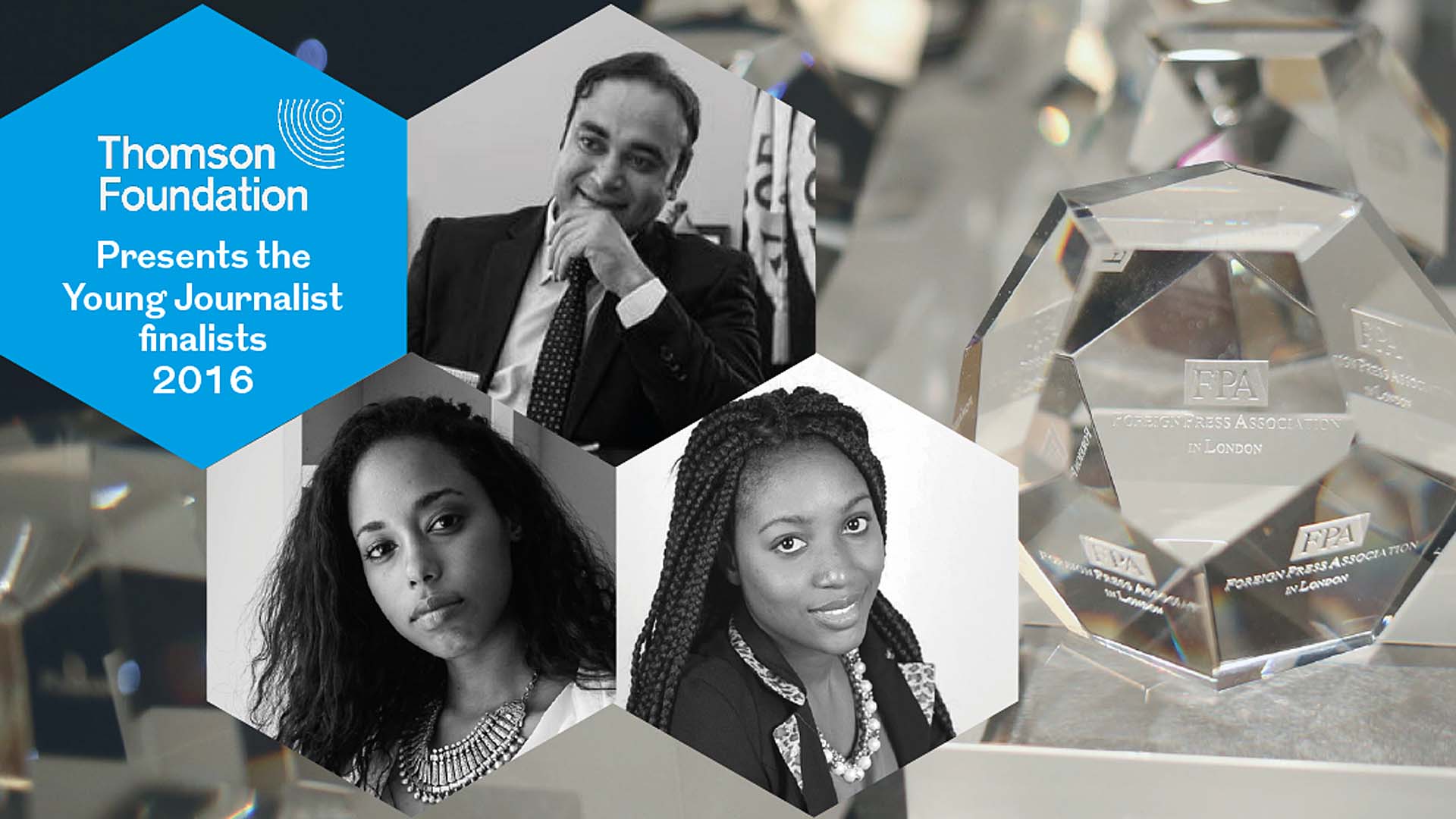 The final three
Yousra is joined by two other finalists, Salman Yousafzai, a reporter for New Lens Pakistan and Dawn.com and Ancillar Mangena, a Zimbabwean journalist working for Forbes Africa magazine in South Africa.
The trio will be flown to London in November, spend two nights in the city and attend the gala award night at the Sheraton Park Hotel – along with a host of other potential award winners and leading figures from the world of journalism – where one of them will be announced winner of the Thomson Foundation Young Journalist Award 2016.
The award, now in its fourth year, is one of the highlights of the UK's Foreign Press Association Awards and this year attracted more than 100 entries from 42 countries.